Saturday, January 21st, 2017
Remember Your Safe Words: "Klaatu Barada Nikto!"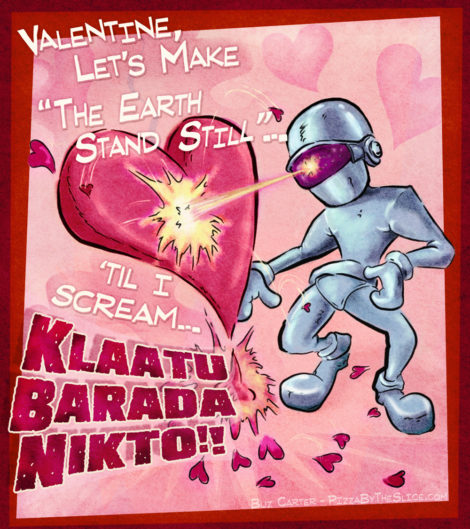 Robert Wise's 1951 "The Day The Earth Stood Still" is a truly genre defining film, which, along with "The Thing From Another World" (Howard Hawks, 1951) and "Invasion of the Body Snatchers" (Don Siegel, 1956), established our gold standard for what smart, eerie scifi films could deliver by including healthy doses of paranoia, pleas to "act human", and memorable villains (albeit the three films come at these problems of "visitors from outer space" from decidedly different tacks: galactic police versus deadly conquerors).
If you've not watched these films do so now†. With only a few hand-waving allowances required for their being 60+ years old they hold up exceptionally well, delivering creepy, noir-esque worlds, engrossing writing, effects that bear up (TDTESS's saucer landing on Washington's mall — yes!), and (mostly) exceptional acting — plus Bernard Hermann's TDTESS score is instantly recognizable as how 50's scifi should sound.
But only one, "Day The Earth Stood Still", has a badass killer robot.
Gort.
Gort's silent menace drivesTDTESS's story. In fact, it's the fear of Gort's powers — and prevention of his executing same — that provides us cinema's first believable robot character (OK, special allowance for Maria).
So then, here is my Valentine's Day card tribute to our pal Gort and his not-so-easy-to-remember safe words: "Klaatu Barada Nikto"!