Sunday, August 21st, 2011
Show Your Ukulele Play'n Pride!
Bruddah Iz Ukulele Merit Badge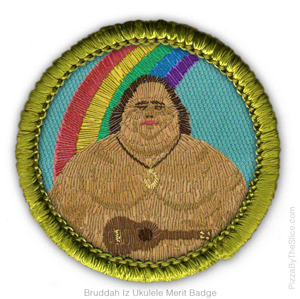 This "ukulele merit badge" sporting Israel Kaʻanoʻi Kamakawiwoʻole, better known as Bruddah Iz, is only a test/rough-draft, the first from a set of about 30 badges that'll appear on a site targeting novice to "advanced beginner" uke players (I'm more toward the low-end of that talent scale myself). The site's gist is offering guidance — lesson plans and skill challenges to keep learning fresh and avoid burnout or that frustration from "getting stuck" or not knowing what to try next.
Though he passed some years ago Iz remains incredibly beloved in his Hawai'i and you'll no doubt recognize his Over The Rainbow/What a Wonderful World cover. Checkout NPR's profile of Iz on their "50 Great Voices" series. So familiar to the ukulele community is this song that… well:
Q: How many ukulele players does it take to cover a Bruddah Iz song?
A: Apparently all of them.
Oh, tip of the hat to Mayang's Free Textures for the free hi-res cloth texture.