Saturday, February 11th, 2012
Updating that creepy airborne, weaponized juvenile delinquent
Cupid Joins Ukulele Craze!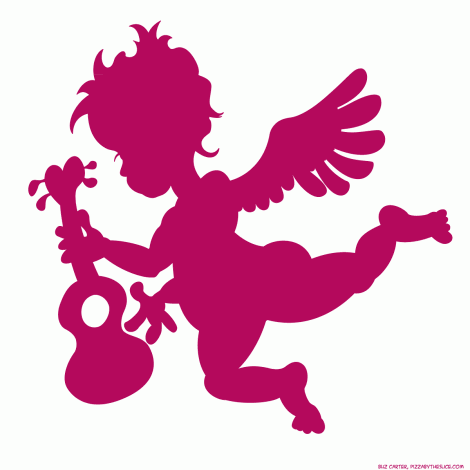 By request: an old timey silhouette of Cupid playing a uke — which, to my mind at least, makes considerably more sense for a matchmaker than the traditional version — that a flying toddler, naked save for a quiver of magic love arrows, stalks singles before firing one of said arrows into them (particularly the reluctant ones) who then — usually against their will, mind you — suddenly become quite smitten. That Cupid's a little shit. A kid serenading two lovers with a ukulele? That tale's at least 60% less disturbed.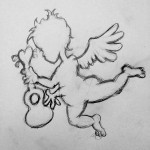 It wasn't too tough to talk me into this as, in addition to happily making the occasional anti-Valentine's Day card, I'm also a quite the fan of silhouettes. So a quick pencil sketch (at right), bit o' tracing in Illustrator and here's the result…. plus black & white, outline-only, and PDF versions for you crafters.
Download "Cupid with Ukulele Silhouette" as (60kb Adobe PDF)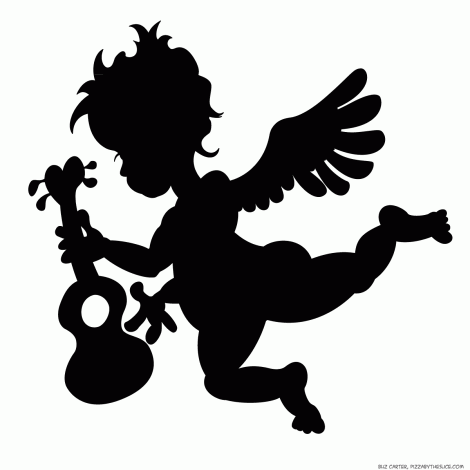 Oh, I did Google image search "cupid" (to size up the competition) and was surprised to see that some folks grant their Cupids halos, an attribute I don't see mentioned anywhere. I did, however, stumble upon this terrific digest version of the Cupid-Psyche tale (a good read, indeed)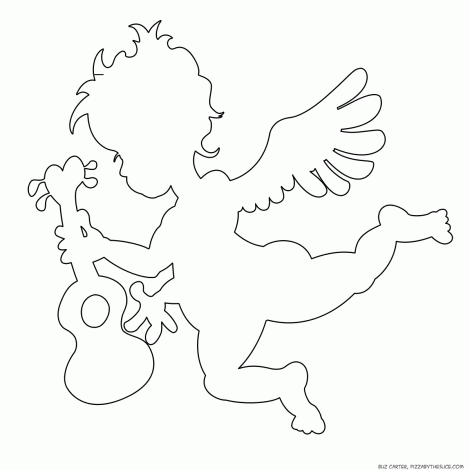 Obsessed? Nah. But I would like to help build up a decent library of freely available "clip art" for uke groups and enthusiasts of all stripes. Viva Creative Commons!

Cupid with Ukulele by Buz Carter is licensed under a Creative Commons Attribution-NonCommercial-ShareAlike 3.0 Unported License.
Based on a work at pizzabytheslice.com.