Thursday, March 13th, 2008
Neighborhood Gets Overdue Loitering Spot
Cycleway Coffee (Hermon /Highland Park… errr, somewhere in Los Angles)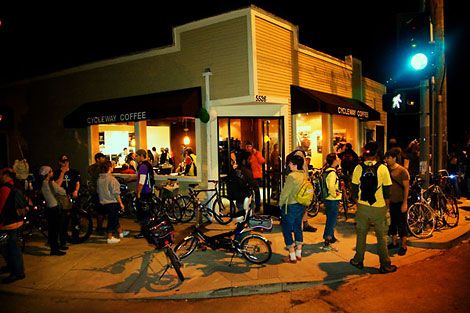 My recurring lament "wherefore art thou, neighborhood coffee house" ends with the opening last month of Cycleway Coffee, a truly first-class coffee house nestled at the foot of the hill-saddle between Highland Park, Monterey Hills, and the Arroyo Seco — otherwise known as "Hermon".
Their opening day was quite well attended, capped off by a stop of some scores of bicyclists enjoying the monthly NELAart Organization – Spoke(n) Art Bike Tour (open-studios throughout Highland Park). I dropped in during the day to shoot these photos (also posted as a Flickr set).
The very existence, as brief but notable as it was, of the cycle way was a complete surprise to me. And while it was never finished, rarely used, and was replaced by a freeway it's quite a tale.