Sunday, September 19th, 2010
A Beistle Halloween Homage Decoration
Halloween "Dapper Midnight Ghoul" Decoration and… Cupcake Topper?
I'm a tremendous fan of Beistle Company's die-cut, 2-4 color pressboard Halloween decorations… now considered vintage but those are what hung on our front door and windows every year of my Kansas childhood. Excitedly pulling down that tape-patched cardboard box of Halloween decorations from our cedar attic meant that cool, damp fall mornings were just around the bend.
Just thinking of this triggers a Pavlovian response in me still, one of giddy anticipation and nostalgia.

Here's my homage to those vintage Beistle Halloween decorations (the colors are straight from one of their smiling witch pieces), a sort-of "V for Vendetta" meets Mr.Hyde-esque mask. Or wall hanging. I've made a cupcake topper version, too.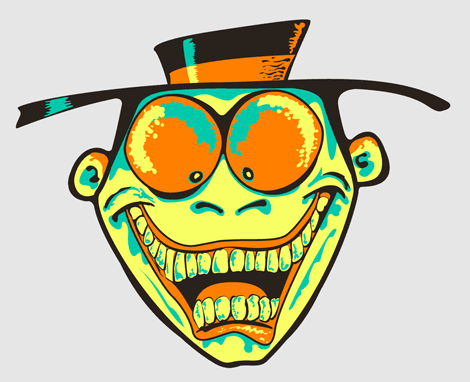 Download Acrobat PDFs
Hires JPEGs Flickr
If you prefer large JPEGS I've posted those on my Flickr photostream.
Further Reading:
Bonus: Oh, I know you think you're well versed in all those awesome retro orange-black-yellow (and sometimes "sea foam" green) cardboard decorations, but have you seen Beistle's "Pirate Haloween Cat"? Yeah, great, right?