Sunday, October 23rd, 2011
A Halloween Freebie for Photography Perfectionists
Jack-o-Lantern Pumpkin Cutaway Stock Photo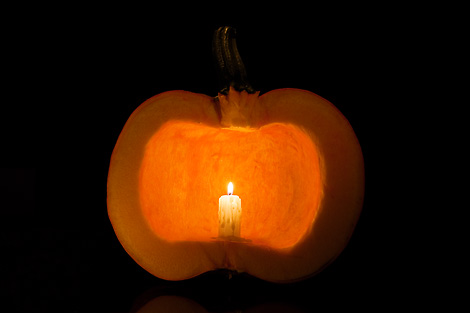 Ever wonder what it's like inside your Jack o'Lantern? No? Really? Oh…
OK, did you just take a great shot of your prize winning pumpkin carving — Dr.Who on one side and Cthulhu on the other, but the exposure of its interior is blown out? This bother you… lots? Really? You, my friend, are truly obsessive — and my kind of Halloween geek.
Use this photo to fix your sad pumpkin photography mishaps. Just mask out your lost eyes and mouth(s) and use this cut-away pumpkin interior stock photo and all's betterest (higher resolution up on Flickr).
Of course you can just print this on nice paper, too, I suppose… it is lovely in there, which still doesn't explain the freakish nursery rhyme, however:
Peter , Peter , pumpkin-eater,
Had a wife and couldn't keep her;
He put her in a pumpkin shell,
And there he kept her very well
Have we stopped writing & passing along nursery rhymes? Is the short form gone? Ahhh, I digress.
(thanks, Brainz, for 24 Terrifying, Thoughtful and Absurd Nursery Rhymes for Children)