Saturday, January 3rd, 2009
This Year's First Free Kid's Coloring Book Page Download
Roller Skating Cows, Bunnies… & Yams?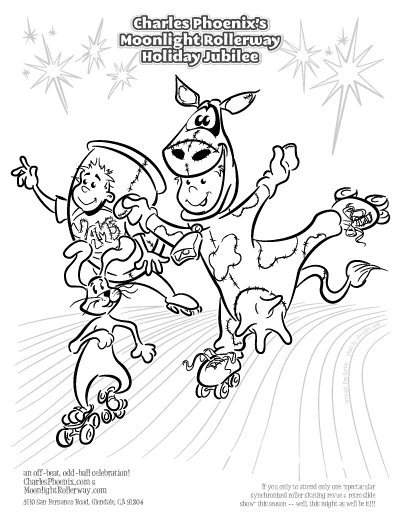 Having begun the year the way I suspect many of you did — watching the Rose Parade — afterward I, too, found my attention drifting during the parade's namesake bowl game (bless their hearts, they tried, oh, how they tried). Not being a USC football fan, well, I lap-topped my laptop, grabbed my trusty mechanical pencil in hand and… doodled — not just any doodle, but doodled my first coloring page of 2009, one that fittingly celebrates one of '08's highlights: Charles' Moonlight Rollerway Holiday Jubilee! (exclamation marks are compulsory following "jubilee", right?).
Superlatives eagerly queue, each vying to describe just how great an entertainment mix this event was, but you'll find out yourself when you go. OK, a quick taste: an Ektachrome romp through Californian holidays of yesteryear chaperoned by Charles. "The Worlds Greatest Roller Rink Organist" Dominic Cangilosi! Roller skating cows! For Pete's sake, roller skating cows! Zombies roller skate-dancing to Michael Jackson's "Thriller"! A slice of pumpkin pie (with whipped topping cap) figure-eighting with a can of yams and you still ask for proof? Cows? On roller skates??!!
For now just download my coloring page (102KB PNG, but worth the millisecond download time as it features a rollerskating cow!) and, of course, check out my photos.
More event info: CharlesPhoenix.com or MoonlightRollerway.com (forgive them their Flash).
Disclaimer: I am not affiliated with this event, nor its venue, nor did I accept any form of compensation from any bovine, buffalo, or cow, roller skating or not, in consideration for this doodle. Happy Mooooo Year!!
Fonts: MEgalopolis Extra, free from Jack Usine's SMeltery font factory and, again, Desigers available (free also) on daFont.com.