Tuesday, April 15th, 2003
Screenplay Format and Blank Word Template
FinalDraft is the de facto screenplay editor, and while it does do lots of nifty, though let's face it, quite simple things, it isn't indispensable. With a bit of patience you could format any document as a screenplay, so why buy FD? Indeed.
Screenplay Template | Blank Storyboards
Helpful Sites on Writing for the Screen
Screenplay Format | Screenplay Example | Miscellaneous Notes
Screenplay Template
Download: blank_script_0-01b.zip (6 KB)
Download this zipped Microsoft Word document, instead. I've defined the standard screenplay elements as Word Styles. Just apply the style of your choosing to the appropriate paragraph and you're done. This is also configured to automatically choose the appropriate next style for you as you type: that is, Action follows Scene Heading, that is followed by Character, and then Dialog, etc. Someone did say this wasn't working for their version of Word, but I was unable to reproduce their problem. Worse case do it by hand. (see Format notes below)
Is this faster or more convenient than Final Draft? No. It is, however, cheaper and nearly as good for many folks.
The style names are proceeded with a number, these, for those who have used FinalDraft, are those same shortcuts FD employs. Set your own hot-keys (Tools » Customize, then click the Keyboard button). In older versions of Word this was quite easy to do. Too bad.
This is a movie script format, not television format or stage play. Never had need for those myself, so you're on your own.
You will need a 12 point Courier font installed. Why 12pt? Hmmm, if you're asking you should read up a bit more about writing for the screen before taking your treatment in for the pitch. On the other hand, someone has made a dandy, heavy, typewriter-esque font just for screenplays: Courier 10 Pitch BT. Available Free here
Blank Storyboards
Download: blank_storyboards.pdf (81 KB)
FREE Acrobat Reader from Adobe
Help and tips for downloading Acrobat files
By request, GIF versions of these templates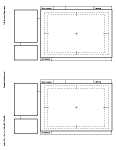 OK, even if you are only as talented as an eight year old with a crayon, a stack of blank storyboard pages is indispensable for even stick figure artists. Plus, blocking is more easily worked out if you have diagrams. Really. Doing this will save you time and money. (shown at right is one of the six different storyboard page layouts included in the Acrobat file, or get individual GIF/images here)
I've setup several sizes of blank templates for your storyboarding pleasure: various aspect ratios (DV, HD, NTSC broadcast, title-safe, 720×480,1280×720) and some of these include camera staging areas. Also have various formats to choose from: 2 on a page to 6 little, bitty ones per page. Whatever works for you, your level of detail. Download and print what you need.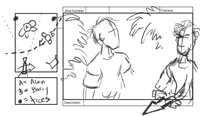 A few folks have asked "what's that storyboard with the camera diagram space?" Sure, easy.
The top rectangle is for diagramming a bird's eye view of the shot, showing placement of any objects complicating the shot or that are in motion. For example, camera tracking, actors walking, efx, complicated lighting setup, etc. The box below this is just a space for the key, such as "red dot is Jim", or "X = Jenny", or "triangles are lights".
It's a handy place to show movement, the camera's range of view, marks, etc.
Helpful Sites on Writing for the Screen
Reading scripts, best way to appreciate that you have no talent, but neither does the guy that wrote Lethal Weapon 4. On the other hand, reading Chinatown or Network will make you weep with envy. So it goes. Here are a few sites that have script downloads:
Standard Screenplay Format
Below are the parts of a screenplay laid out in purty HTML (note: cheated the style sheet (CSS) a bit so that the script-snippet/example would fit nicely within this web page's formatting).
Even if you're doing a two minute Flash animation or an office skit for National Sexual Harassment Day, use this teleplay format; it's time-tested and works, and is actor-friendly. One Page = One Minute. Really.
It's a simple stylistic system with 7 parts (listed below in their FinalDraft order) of which you'll probably only need 5 (parentheticals and camera direction are discouraged):
slug-line (or Scene Heading) left-margin of 1.7″ and a right-margin of 1.1″, preceded by two blank lines. All-caps.
action (or Stage Direction), margins: left: 1.7″, right: 1.1″
character, simply a character's name preceding that character's dialog, always in all-caps, with a left-margin of 4.1″.
parenthetical (or Dialog Direction) — use this sparingly, if at all, because the writer is not suppose to direct from the script page. This is used to tell the actor what to do, i.e. direction, and really ticks-off directors and actors. So unless you're Charlie Kaufman or your last name rhymes with "cohen" you should rarely employ this. Left-margin of 3.4″, right-margin of 3.1″.
dialog has left-margin of 2.7″ and right-margin of 2.4″.
transition left-margin of 6.0″. All-caps
shot (or Camera Direction) all-caps and margins of left: 1.7″, right: 1.1″. Same caveat here: use sparingly, you as a writer should not attempt staging or blocking shots (William Goldman famously ignores this and directs from the page — an eccentricity purchased on the backs of a mere Oscar or two)
Ahhh, man! I just typed all of that from some old notes — and then found simplyscripts.com has all this margins-crud (and lots more) described quite nicely here: Standard Script Format.
Script Example
Mouse-over the "?" for explanation of the style, in theory. Oh, Internet Explorer doesn't show the highlighting properly. For shame.
? FADE IN:
INT. OFFICE – DAY ?
?Frustrated WRITER sits before a 1937 Smith Corona typewriter, CLACKING KEYS ECHO across the room.
WRITER ?
(to his CAT) ?
? God, I'm never going to finish this screenplay.
CHARACTER TWO (O.S.) ?
? Wow, this is so simple.
? CUT TO:
EXT. STREET – DAY ?
? A bright midday sun illuminates a gleaming silver rocket ship. Steam pours out of various valves near its tail. Enormous fins hold it well above a CLUSTER of scurrying men.
ANOTHER ANGLE ?
? Two space-suited figures step into a cramped elevator. The rocket explodes with a DEAFENING BOOM.
? FADE TO BLACK.
Miscellaneous Screenplay Format Notes
Uses for all caps
(MORE): when a character's dialogue carries onto next page
CHARACTER NAME (CONT'D): when dialogue resumes from prior 
page
AD LIB: when the actors fill in the dialogue with 
incidental lines
VOICE OVER (V.O.): when we hear narration over the action
OFFSCREEN (O.S.): when we hear the character speak but he 
is offscreen, such as calling out from the other room
BEGIN TITLES: when the main credits start
END TITLES: when the main credits finish
FREEZE FRAME: which is at the left margin and punctuated
with a period.
TITLES OF SONGS AND BOOKS

Sounds in Action are capitalized, this alerts foley that 
a sound effect is called for.

The first time a character or a group of characters appears 
in the script their name is capitalized.

Standard Scene Headings
INT
EXT
I/E
DAY
NIGHT
SUNRISE
MAGIC
CONT
INTER

Standard Transitions
CUT TO
FADE IN
FADE OUT
FADE TO
DISSLOVE TO
BACK TO
MATCH CUT
JUMP CUT
FADE TO BLACK

Standard Shot Headings
ANGLE ON
BACK TO SCENE
CLOSE SHOT
CLOSEUP (C.U.)
EXTREME CLOSEUP
EXTREME LONG SHOT
FREEZE FRAME
LONG SHOT
MEDIUM SHOT
MONTAGE
MOVING or MOVING SHOT
P.O.V.
REVERSE P.O.V.
TWO SHOT
WIDE SHOT
ZOOM IN / ZOOM OUT