Sunday, November 13th, 2011
Don't "Ring" In The Season! Pluck 'n Strum It Properly...
Ukulele "Old West" Holiday iPad & iPhone Wallpapers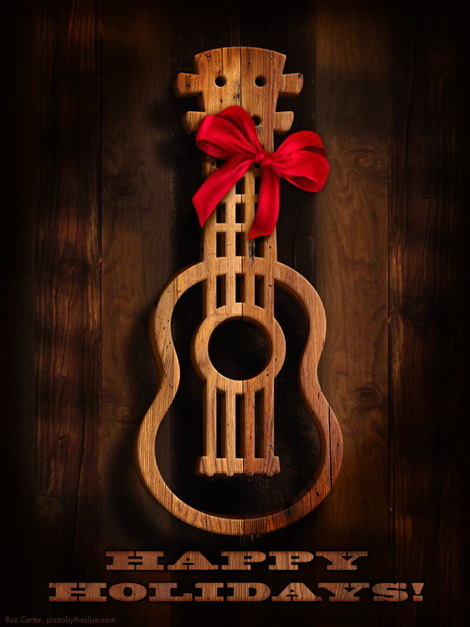 Mele Kalikimaka! Joyeux Noël! メリークリスマス Froehliche Weihnachten! Maligayang Pasko!
I enjoy noodling with the oh-so-sexy uke's shape, 'tis quite pleasing to draw. And within the ukulele family nothing tops the "pocket" ukulele's exaggerated, peanut perfect proportions, besting even its more popular big brother, the soprano, for pure ukie-ness. Anyway, with the holidays upon us it's time to post more uke love.
Choose between iPhone or iPad versions, as well as a 5 x 7 inch size suitable for printing as your Holiday card (so please put away that soggy Santa hat your dog's been teething on for the past year and tell the neighbor you won't need to borrow his chocolate Labrador this afternoon for your Christmas card photo). All formats available in Hawaiian, English, French, German, Tagalog and Japanese.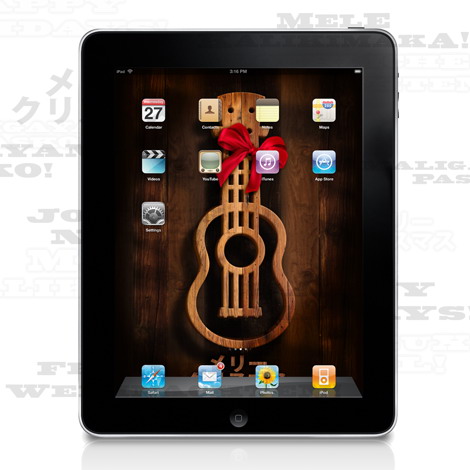 Languages
Choose your preferred language English, Hawaiian, French, German, Japanese, Tagalog or blank (for all you Scrooges out there)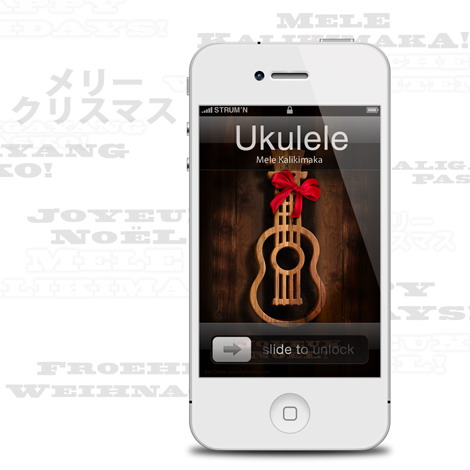 "Happy Holidays" Ukulele
"Mele Kalikimaka" Ukulele
And, of course, for our Hawaiian pals, Mele Kalikimaka: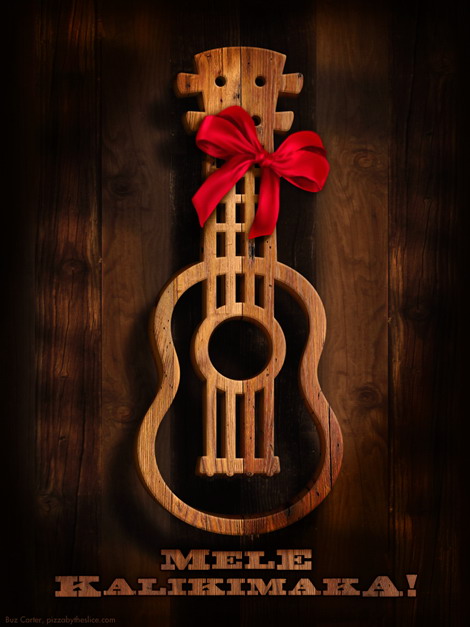 "Joyeux Noël" Ukulele
Lest you French Canadians be disappointed, here's… something in French: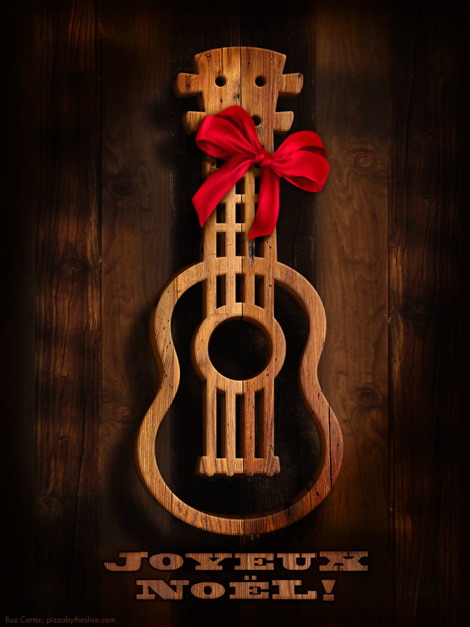 "メリークリスマス" Japanese Ukulele Christmas Card
I'm super lucky to have some pals at my office who also love the uke — we sometimes play over lunch. One just recently moved here to the states from Japan, where he'd lived for 14 years since leaving China. Here's our conversation today:
Me: How do you say "Merry Christmas" in Japanese?
Him: mmmnnn… "Merry Christmas". What? We borrow.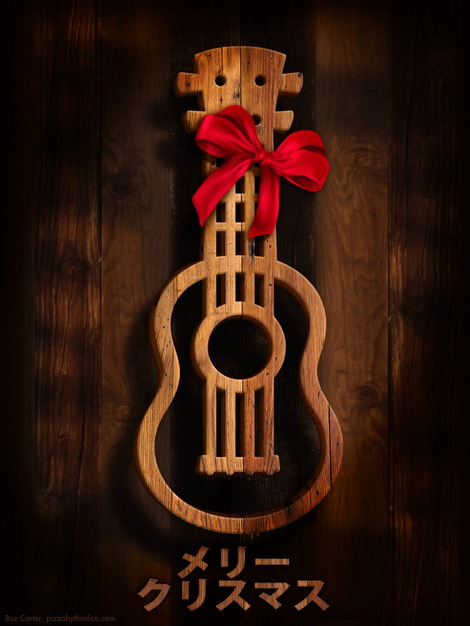 "Froehliche Weihnachten!" (German) Ukulele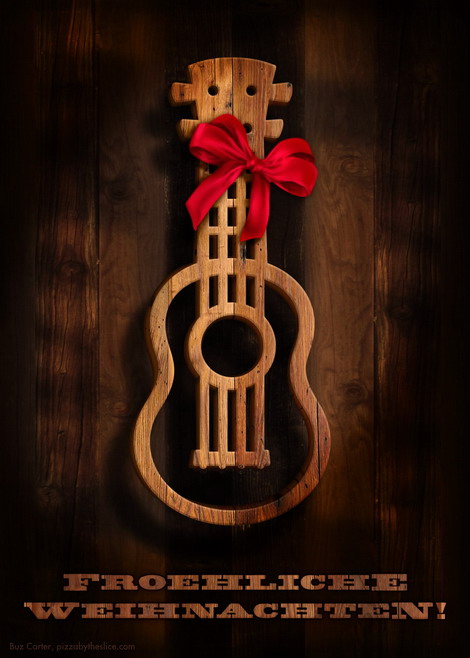 "Maligayang Pasko!!" (Tagalog/Filipino) Ukulele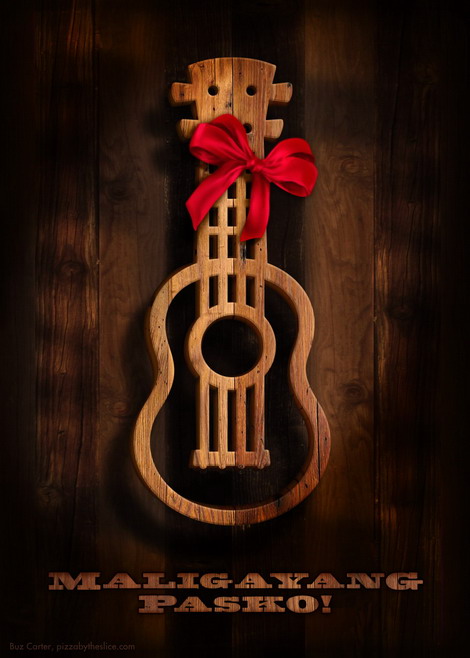 "Plain" Ukulele
If you'd prefer a "clean" version of this uke (sans red bow and text), well, here ya go.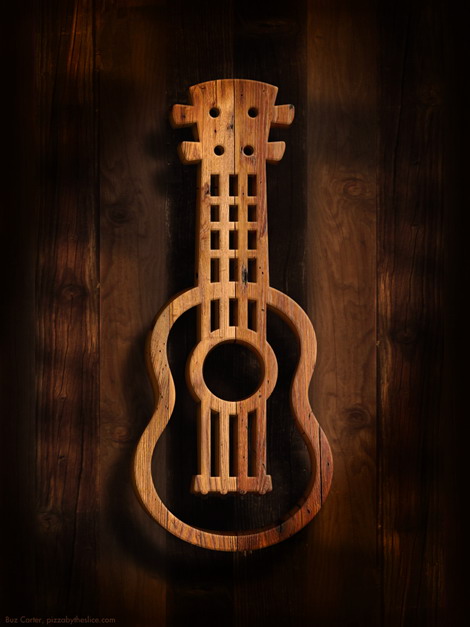 Other Versions 'n Shop
I also have a hi-res versions on Flickr in my Ukulele Mania set.
Too lazy to print this at work? Fine. Cards available on Zazzle & CafePress (more stuff on Zazzle).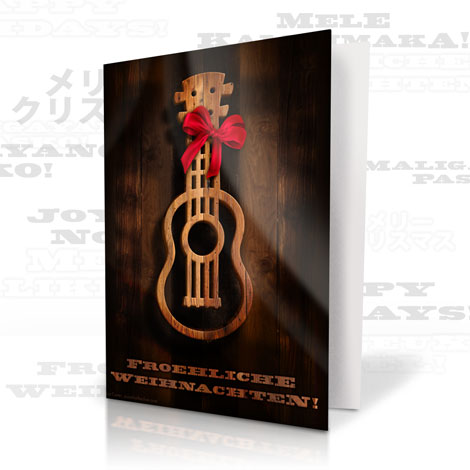 Want to use these images?
Part of a ukulele club and y'all want to use one of these for a songbook, invite, etc? Fantastic. Do it. Really. This is posted under a Creative Commons license so you're welcome to use it for non-commercial purposes. If you do wind up using this, and are so inclined, drop me a line — I always enjoying hearing how this stuff gets used (it's a vanity thing).
This work is licensed under a Creative Commons Attribution-NonCommercial-ShareAlike 3.0 Unported License.
Colophon
Mockups made with free iPhone & iPad templates from intridea (iPad Wallpaper Template) and pixeden (iPhone 4G Mockups).
The font is Fatboy Husky from Wood Type Revival.