Sunday, July 8th, 2012
Some Yosemite inspired ukulele swag!
Ukulele Rangers "Singin' Bear" iPhone & iPad Wallpapers… plus T-Shirts & Mugs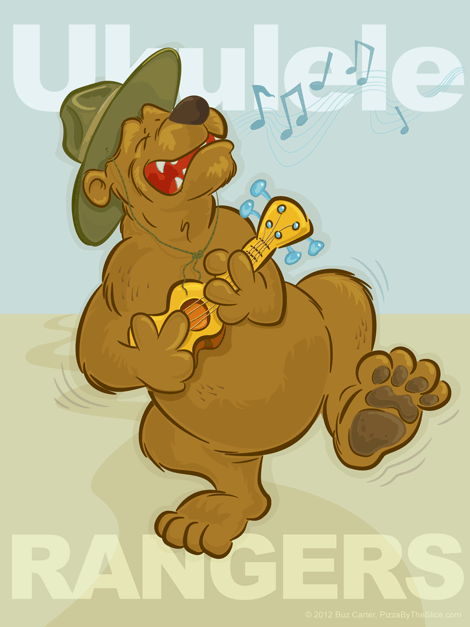 "Ukulele Rangers" was our nickname for the folks we encountered in Yosemite who'd brought their ukuleles (or guitars or even one fella with an udu) along on their hikes. I'd done this quick sketch at the time, but in the two months since our trip I've kept returning to this idea — a bit obsessively, actually — of these chance meetings and impromptu jam sessions among companionable folks, making music while enjoying the outdoors.
So here's my invitation (or friendly challenge) for all y'all to join the Ukulele Rangers. It's quite easy — just grab your ukulele along with that trail mix, bug repllant, and s'mores supplies as you head out the door to your next picnic, backyard croquet match, or camping trip.
You already did? Congratulations! You're in!
Having passed the initiation rite you're now eligible to download these "official" Ukulele Rangers mascot and logo wallpapers for your iPhone or iPad or, if you want something more tangible, check out the goodies (t-shirts & mugs 'n such) I've slapped together on Zazzle and a couple tees on Spreadshirt, too.
Two iPhone flavors and one for iPad (retina display ready, of course):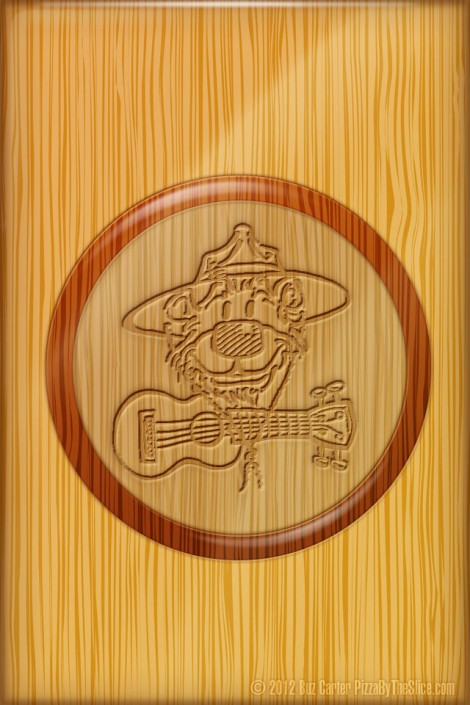 I really tried to make a good 2-color logo, I really did, but in the end I was only able to get down to three colors  (here it is on a button):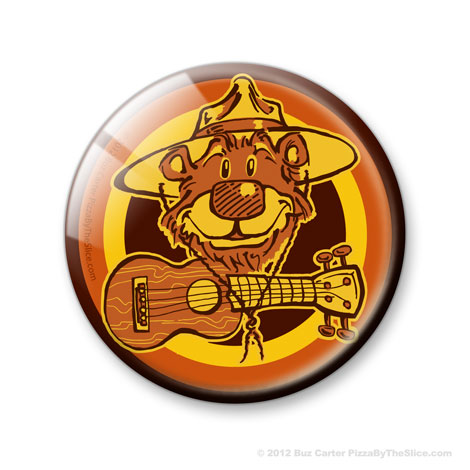 (BTW, you can customize any of these products on Zazzle.)
Since Zazzle allows printing "full wrap" (all the way around a mug — see previews below) I combined the original singing bear mascot and the above logo, placing them into a Warner Bros. animation background inspired forest. It's titled "Do Bears Sing In The Woods?".  I'm ordering both the 15oz Coffee Mug and 11oz Coffee Mug, and will report back on my impressions.

I'm still setting up the t-shirt designs, but do have this preliminary sketch (below). The final shirts will probably have the simplified 3-color logo on the front pocket area and the full design on the back.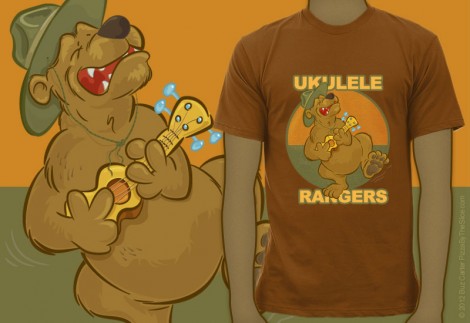 Update: Yup, went with the small, front-pocket design and full back. Here's links to the t-shirts (you can customize everything you want there — shirt style, color, and image placement): mens dark green t-shirt, ladies yellow tee, kids (dark), kids (light)
Here's a time-lapse of my drawing the 3-color log in Brushes for iPad
Finally, here's a few more mug design comps:
Zazzle doesn't give me much power over prices, but they do run sales every so often,  so if you're on the fence, well, keep checking back or subscribe to Zazzle's sale announcement emails.