Friday, December 26th, 2008
Semi-Hyper-Realism? A Photoshop Tutorial
Make A Steampunk Gear Using Photoshop Patterns and Effects
This really is a simple graphic to make though you might not at first agree — especially if you've already peeked at the lengthy list of steps below. Let me reassure you that it's easy and if you're new to Photoshop you'll learn… shoot, you'll learn all this:
Patterns! Useful in the basic mode of making shapes, these prove powerful and flexible in realizing photo-realistic effects
Bevel and Emboss' hidden treasures: Contour and Texture.
Painting with light. Seems obvious, but this composition "works" by combining 3D lighting to 2D elements.
Shadows. Yup, Drop Shadows are key to this, more so than you might think.
The utility of making your own Styles and collecting a Texture Library.
Final Image Preview
The steampunk tileable wallpaper I made a year or two ago generated quite a few "how'd you do that" emails so here's a scaled-down project you can knock out quite easily.
Download Project Files 2.3MB (Patterns and Gear as Photoshop Vector and PNG).
(The image below is 50% size of my actual Photoshop file. For some projects I prefer working at twice my final output resolution, this allows me to work faster, be a bit sloppy, but still have a clean final design. View large final version here.)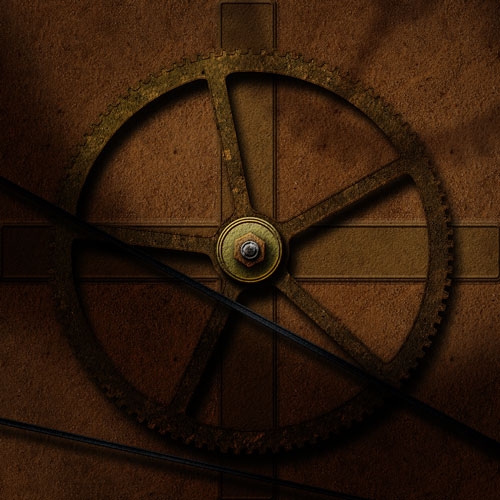 Part 1: Getting Document Started
Step 1
Before launching Photoshop let's gather the required assets beginning with some tessellating (seamlessly repeating) texture patterns. We'll also use a few Patterns that ship with Photoshop.
There's plenty of great tutorials on making step-and-repeat (tileable) patterns (try this tutorial over at PSDTUTS) so I'll not go into how they were made here.
For this project we'll be making heavily pitted, metallic surfaces so I started with this photo of dirt (below) taken at a nearby baseball diamond.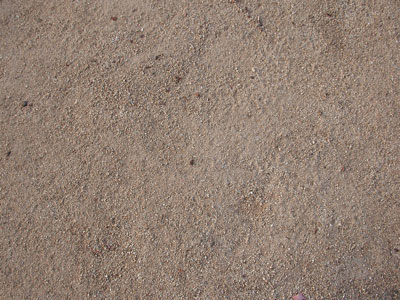 After applying a few filters and fixing the edges so they disappear when tiled that baseball dirt is now the Photoshop Pattern named "Sand" (below). We'll be using this one the most.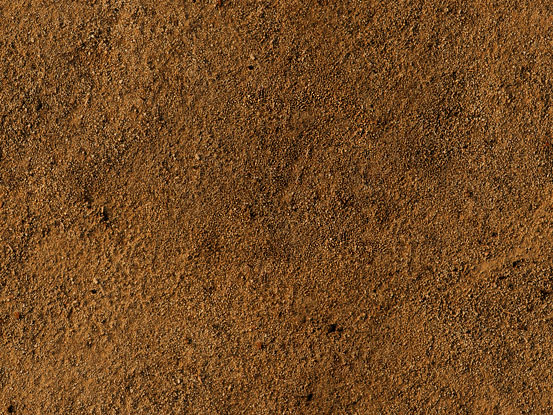 A softer version of "Sand" named "Rough Brass" (below).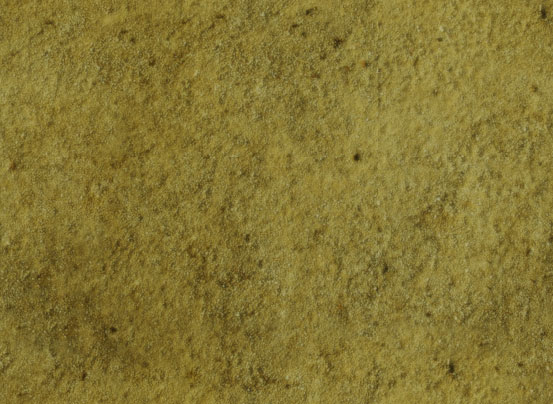 Lastly, "Rotting Leaves" — a messy pattern, handy for dirtying stuff.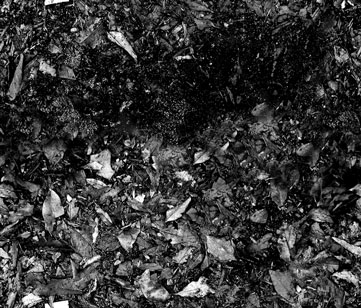 These patterns are included in the zipped project file. I'm going to assume that you've saved them someplace convenient where you can easily access and use them from within Photoshop. If you haven't done this yet take a minute to do it, we'll wait until you get back. (if you need help read this) OK, ready? Cool.
Step 2
Let's begin by creating our Photoshop file, 1000 by 1000 pixels at 300dpi.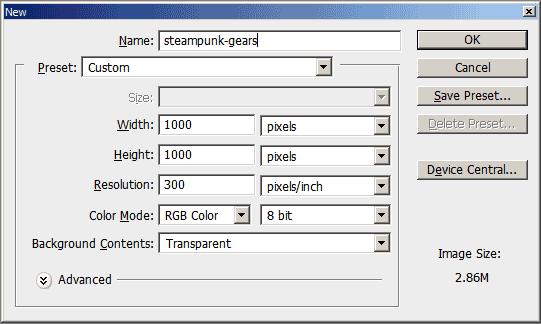 Step 3
Add our background surface. Create a solid by choosing Layer » New Fill Layer » Solid Color…. I'll name it "Background". As for colors I'm going with a nice orangey-rust, say #270e03.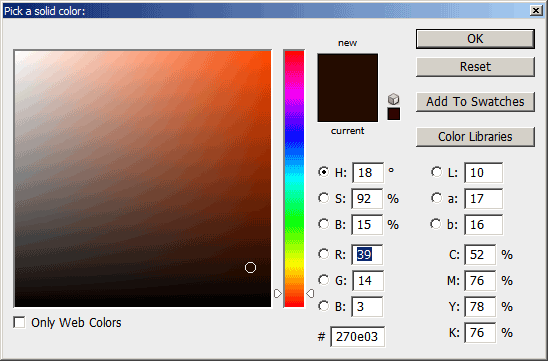 Step 4
Time to texturize. Let's add a Pattern Overlay effect (click the effects button (

) on the Layers window). Choose our Sand pattern. Change the Blend Mode to Screen, knock the Opacity back to about 50%.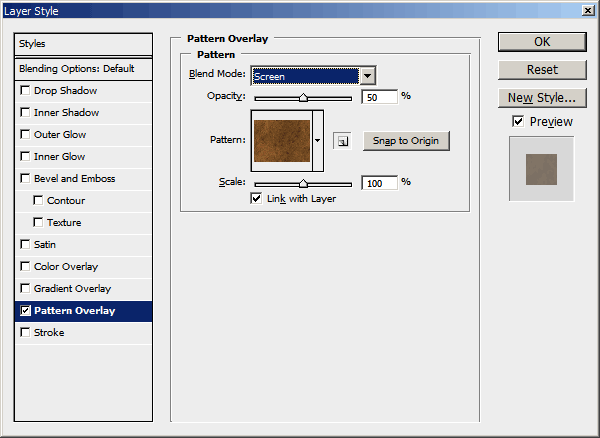 Part 2: Styling the Gear
Step 5
Definitely time for a gear. I built several gears, needles, and cogs in Illustrator (yet another tutorial, gang) and posted them on Flickr, here's the one we'll be using (PNG with transparency). Open this in Photoshop.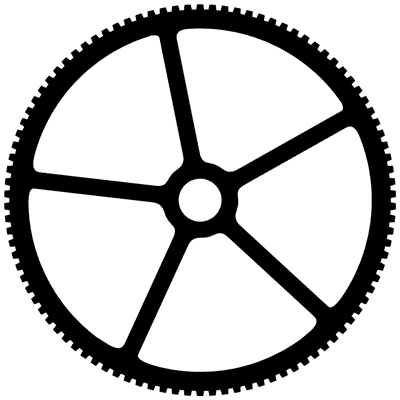 Step 6
Control+click the gear's icon in the Layer window to load its transparency as our current selection.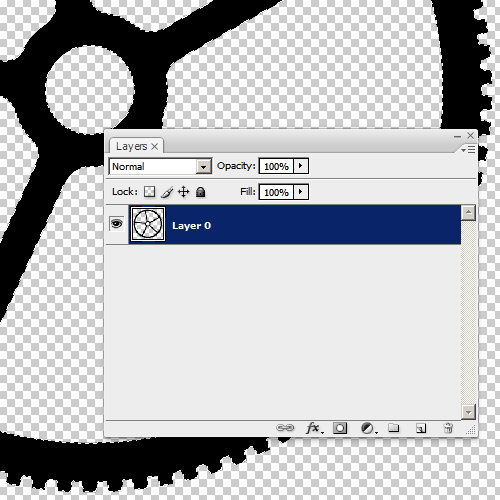 Step 7
From the menu choose Layer » New Fill Layer » Pattern…. Give it a name, click OK. Again choose our Sand Pattern.

Step 8
Drag this new layer into our original composition where we just created the background. You should see the gear faintly on your somewhat darker background (below). We're done importing the gear into our composition so go ahead and close it if you'd like.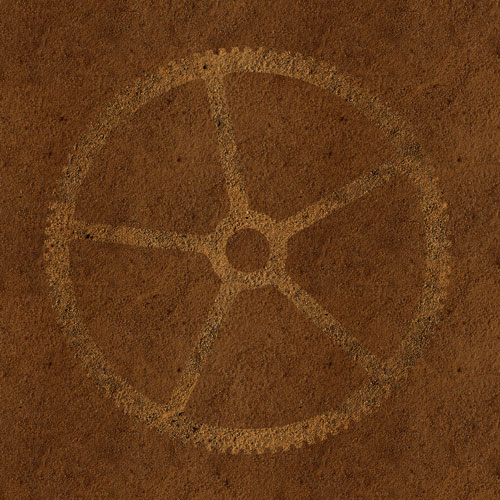 Step 9
We're now going to do all the real work by apply numerous effects to this Gear layer starting with a dark, large Drop Shadow.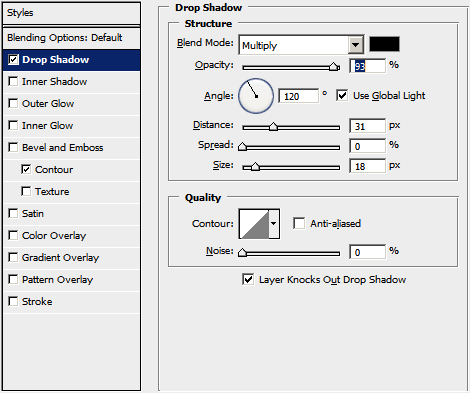 Next, an Outer Glow with Multiply as the Blend Mode will sell the 3D effect a bit. I like to use a color other than black for secondary shadows such as this one, so try sampling a color from the composition and knock back it's saturation just a bit.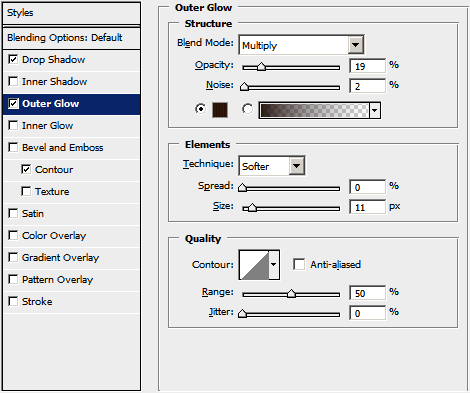 I'm adding a Gradient Overlay here to again create a lighting effect. Light paints with color not just brightness (and darkness). So I'm making a black to pale yellow-green (#f9fd80) gradient and setting the Blend Mode to "Soft Light".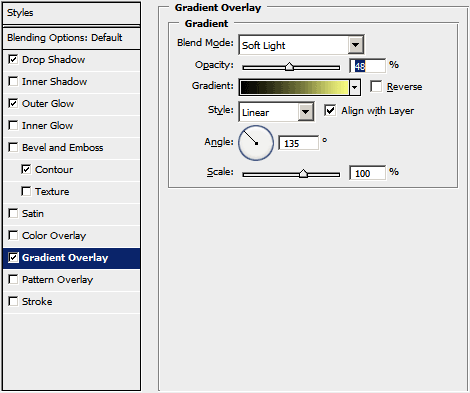 Age the piece more by applying our Leafy Pattern Overlay in "Multiply" Blend Mode.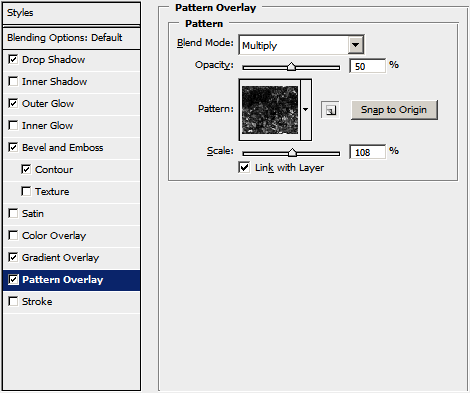 Time for Bevel and Emboss!! First the basics: Chisel Hard with some a strong orange Highlight (#b54000) and deep red-brown Shadow (#380000).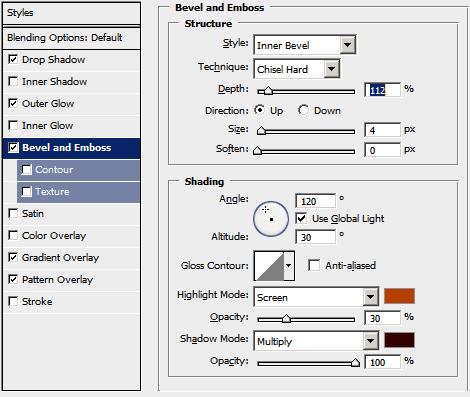 Now let's set a Bevel and Emboss Contour. This adds a slight lip to our gear. You can make it large — as in a decorative flourish — or quite small as flashing (mistakes made during casting or perhaps a misaligned die).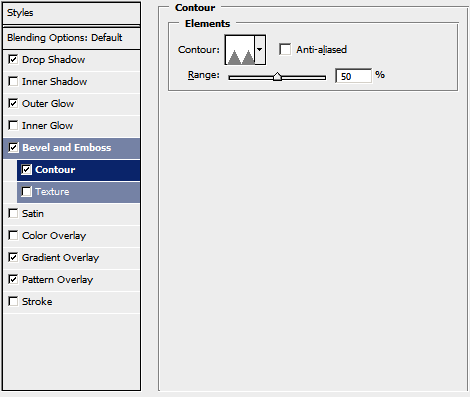 As you can see we now have a respectable 3D gear laying on Mars. Yay. Let's keep going.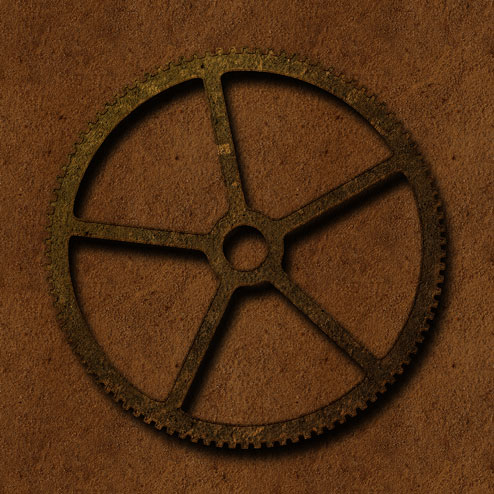 Step 10
With the Ellipse Tool we'll add a plate over the center of our gear to attach it to our background. Set the options to "Paths" rather than its default of "Shape Layer". Draw a circle over the middle of the gear — constrain the ellipse tool to a circle by holding the shift key down as you drag.

We have a path, now choose Layer » New Fill Layer » Pattern…. Name it "Hub" and choose our Smooth Gold Pattern.
Note: if the Hub isn't on the exact center that's OK, we'll align the layers a bit later.
Step 11
We'll apply effects to our Hub very similar to the gear we just did. First, a Drop Shadow.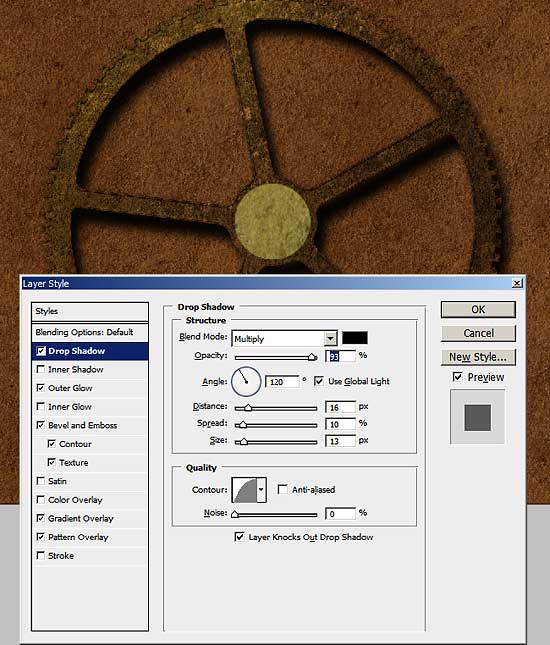 An Outer Glow, Multiply Blend Mode using a red brown (#3b200c).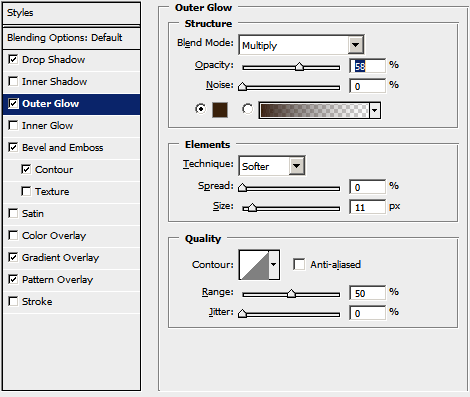 A simple Gradient Overlay (just black to white) adds depth to the Hub's surface.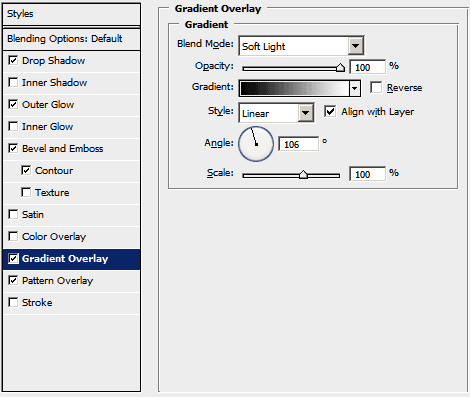 Roughen the Hub's surface with a Pattern Overlay using Luminosity Blend Mode and our trusty Sand Pattern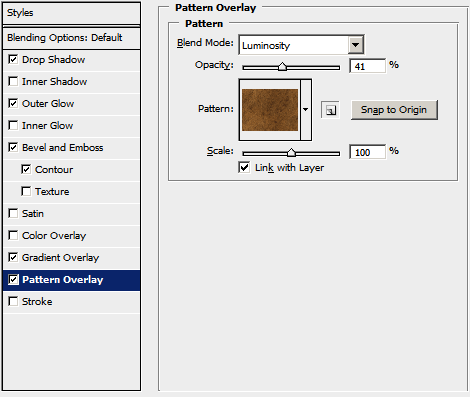 Bevel and Emboss the Hub. This time let's set the size to 10px or large. You'll see why, be patient.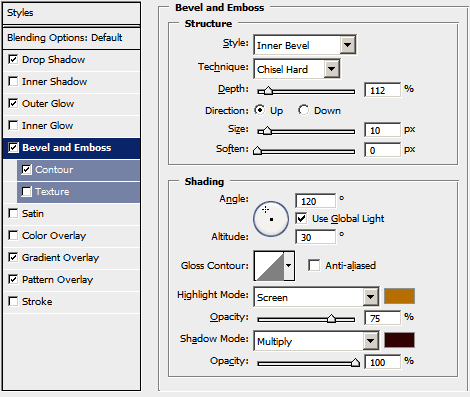 Enable Contour and click the "Anti-aliased" option. Then click on the Contour pattern itself we're going to make a Custom Contour. Let's make a more decorative rim for the Hub by flattening the saw-tooth wave with some "corner" points.
The flat parts of the contour make the top bits of the rim, the anchor points along the Mapping's baseline represent the troughs. The rim's width is determined by what you enter in the Bevel and Emboss Size (that's why we set it to 10px).
You might want to play with this a bit as some quite pleasing effects can be accomplished this way. Play, by all means, play. That's what Preview is for.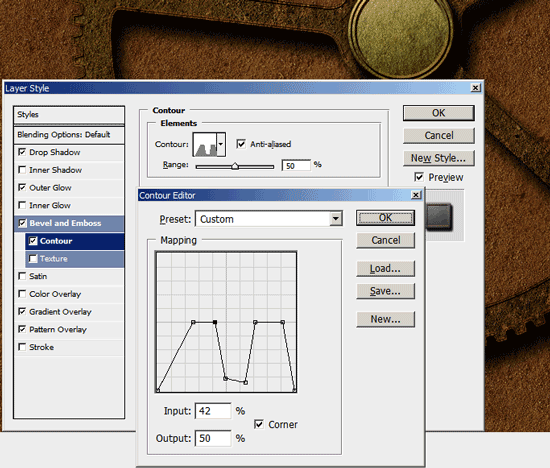 One final touch to add a 3D texture to your Hub. In 3D graphics programs allow you to add "Bump Map" to a surface so it reflects light like a wood or sandpapery surface. A bump map is just a black and white image, the program uses the image's luminosity to determine the surface texture, lighter values are peaks, darker ones pits (or valleys). Photoshop will do the same.
Let's add the trusty Sand Pattern as our Texture with a Depth of 46%. Sweet!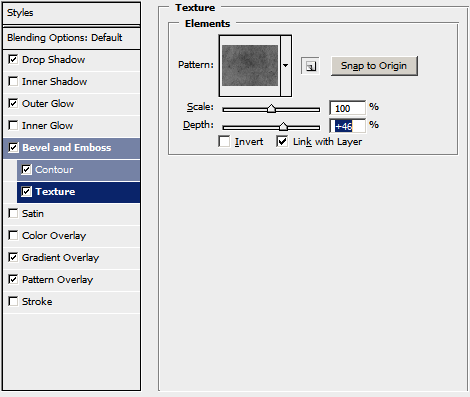 Step 12
We're ready to add a nut to our gear and hub. For this let's choose the Polygon Tool (it's in the Ellipse/Rectangle fly-out menu) and we'll use it in much the same way we added the hub with the Ellipse Tool. Set the Tool's options to Paths, set the number of sides to 6, shift-drag over the Hub's center.

Choose Layer » New Fill Layer » Solid Color... Name the layer ("Nut" might be a good name) . Click OK, and, you're correct, pop open the nut layer's effects, we'll add a few simple effects that'll take us to this: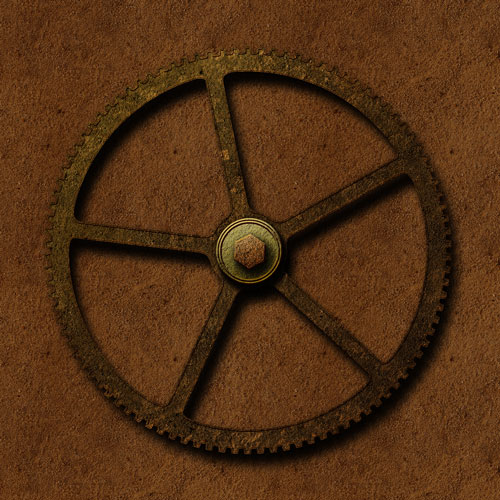 Step 13
This nut just needs the basics: a Drop Shadow…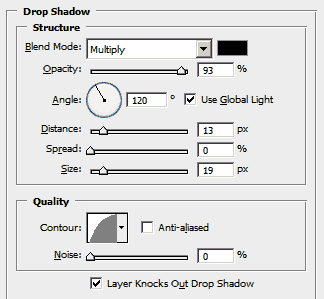 … an Outer Glow for fuzzier shadows and to show the nut "biting" into the Hub's surface…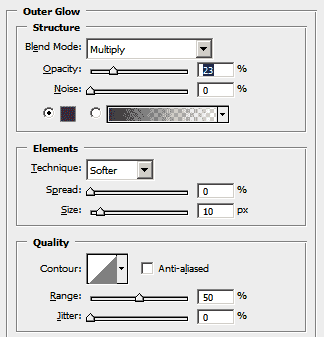 …Gradient Overlay highlighting…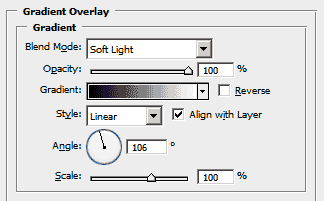 …Bevel and Emboss, the most obvious 3D trickery…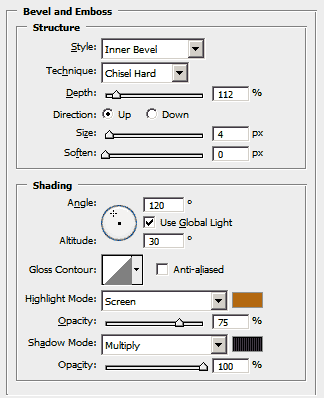 …and finally, Contour (Bevel and Emboss) again, playing around I decided this contour profile looked neat.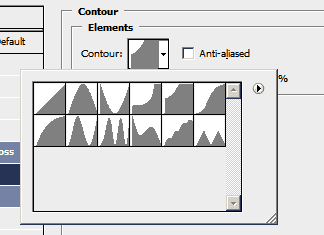 Step 14
We'll need a bolt to thread that nut onto so back to the Ellipse Tool with you! Draw your small circle over the nut. Make a new Solid Fill Layer. You know the drill: Choose Layer » New Fill Layer » Solid Color… Name the layer ("Bolt Thread-end" might be a good name) and I'd go with "secondhand bolt brown" (say #38302a).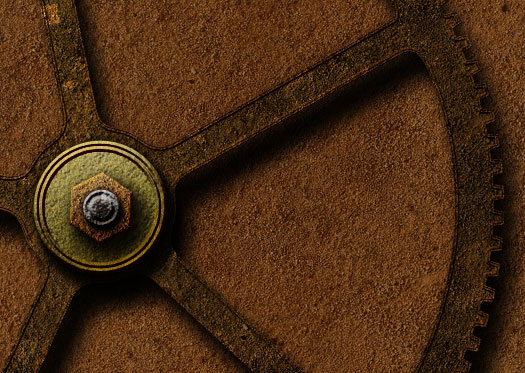 Step 15
Effects for the bolt. Drop Shadow pays the bills!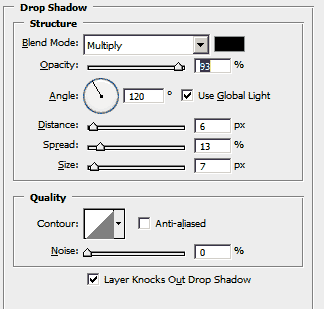 A heavier Outer Glow.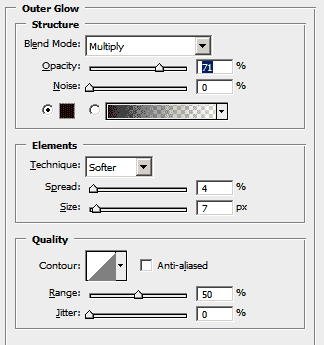 Bevel and Emboss using a beige highlight (#beb099) and deep blue shadow (#001d38).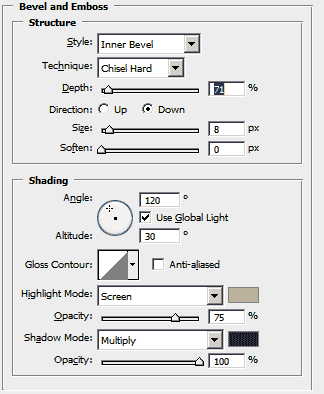 Another handy Photoshop Contour Preset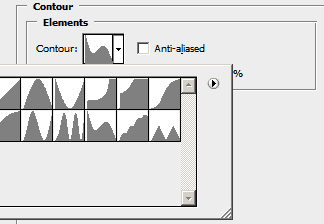 Applying the Sand Pattern as our Bevel and Emboss Pattern for wear-and-tear.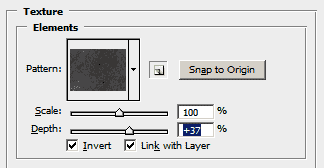 The Leaf Pattern for our Pattern Overlay introduces another texture into our steampunk machine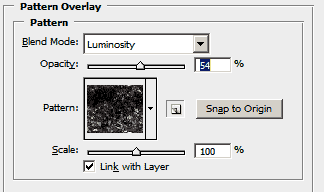 Part 3: A Rubber Drive Belt
Step 16
Let's now suggest other machinery just out of the image's view port. How about a rubber belt? Let's start by setting the foreground color swatch to a nearly black rubber color, say #02070c (shown in blue in the image below so the shapes stand out better). Then on to the Rectangle Tool. Draw two long bands across your image.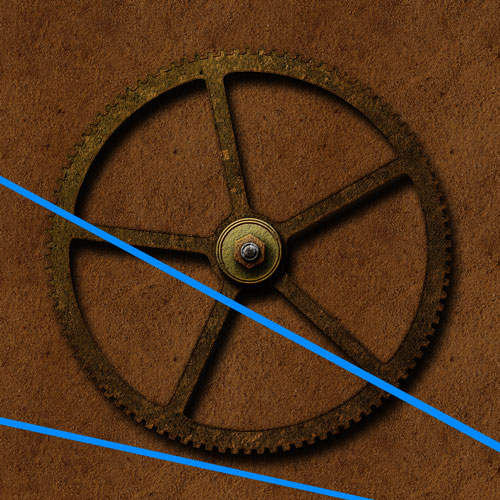 Step 17
Drop Shadow. Sure, at this point you're sick of it, but this is the easiest 3D depth tool in the Photoshop toolbox — and thus the most overused. However, if you'll play with the Distance setting here you'll see how this effect "moves" the belt closer and further from the gear surface. I set it high enough that there's actually a gap between the belt and the background.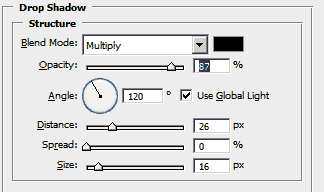 For a Pattern Overlay try Photoshop's "Metal Landscape" Pattern at 50% Scale and "Luminosity" Blend Mode (14%) to suggest that powdery-white patina aging rubber often gets.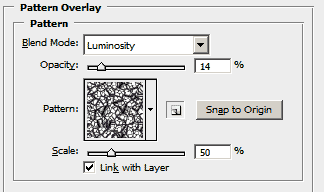 A more complicated Gradient Overlay with Blend Mode of "Linear Light" (very minimal at 14% Opacity) demonstrates the value of spending just one extra minute to tweak an old, familiar Photoshop tool for fast big bang-for-the-buck.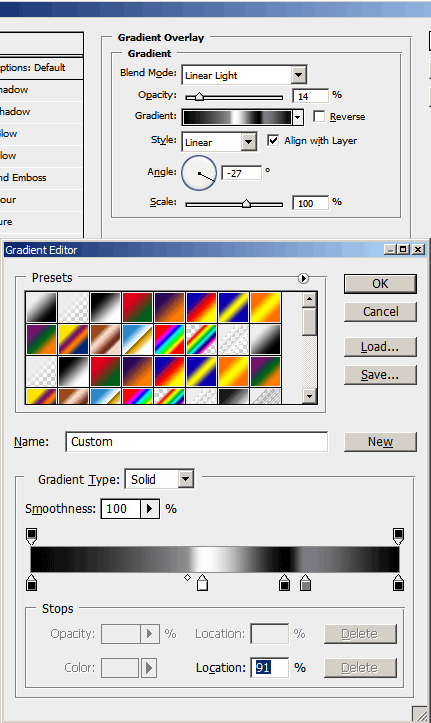 Bevel and Emboss on a matte surface means we'll use very little on the highlight, try as your color this blue-gray #4b5152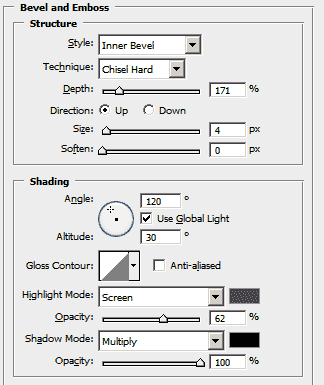 Our saw-tooth Bevel and Emboss Contour fits well here.

Bevel and Emboss Texture — Reuse Photoshops' "Metal Landscape" Pattern at 50% Scale to add some pitting and fragility to our belt.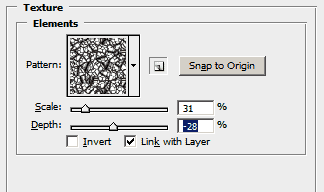 OK, here's the belt. Looks good.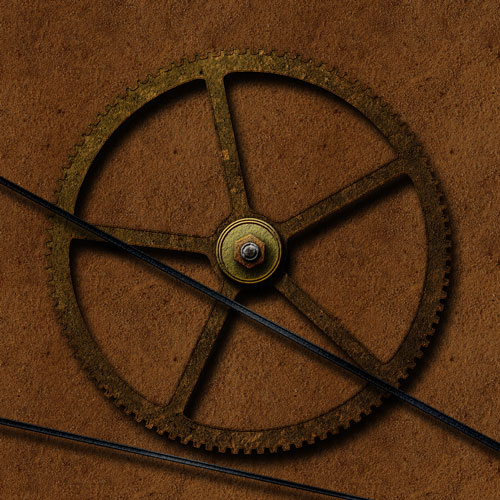 Part 4: Cross Members
Step 18

The back panel could use a little quick love, let's inset some other materials there just behind the gear. Start by selecting our "background" layer. Get the Rounded Rectangle Tool, set the radius to about 12px. The color I'm using is a yucky-green #847842 with a Fill opacity of 40% (we'll actually want a bit of the underlying color/texture to seep through).
Draw a bars, one horizontal, another vertical, across the comp. I'm ending these wide bars just at the comp edge. (in picture below I've exaggerated the color, just so, you know, you can see it).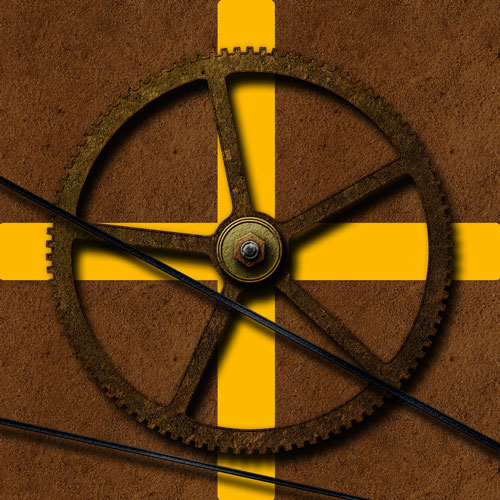 Step 19
We'll just add a few effects to "weld" these cross members onto our background plate. (no Drop Shadow this time)
Gradient Overlay with Blend Mode "Overlay", adding a bit of color at the ends by adjusting the gradient, moving the stops a bit. This might be a good spot to try your hand at Radial versus Linear gradients.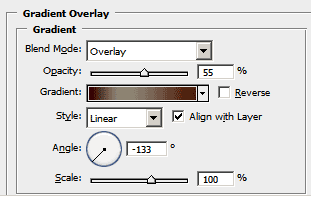 Bevel and Emboss — it's "Pillow Emboss" time. Pillow Emboss effect "spills" over the layer and affects the background.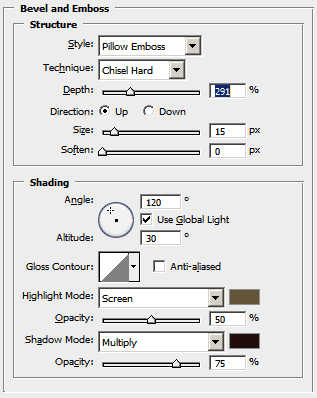 Time to really apply your Contour experience. Add several Corner points.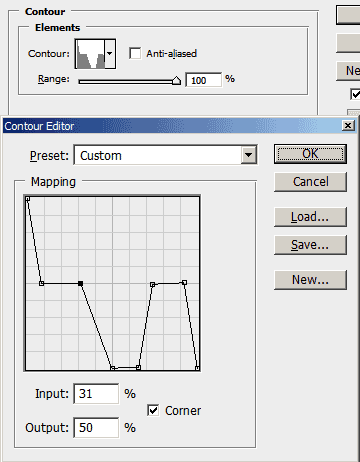 More Sand Pattern Texture.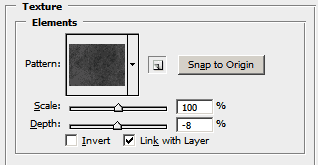 Step 20
Alignment. Select the Gear, background cross-bars you just made, the Nut, the Hub, and the Bolt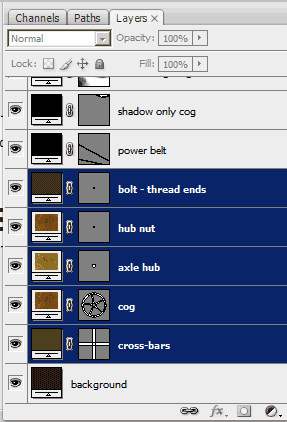 Choose the Move Tool and then click Align Horizontal Centers and Align Vertical Centers
Part 5: Lighting & Shadows
Step 21
Let's talk lighting. And since you love Drop Shadow, let's use a shadow to define a light's location.
Duplicate the Gear. We want a clean copy, so throw away all of the styles on this new copy by right-clicking the layer and choose "Clear Layer Styles" from the pop-up menu. Now zoom out (control+minus several times). Way out. Drag this new Gear layer until it's nearly off the canvas, but just in sight at the composition's top edge.
Set the layer's "Fill" to 0%. Yup, we don't need the layer per say, just its shape (Fill works independent of Effects, so you may create layers only for their effects as we're doing here. The "Opacity" setting works on both Fill and the Effects.)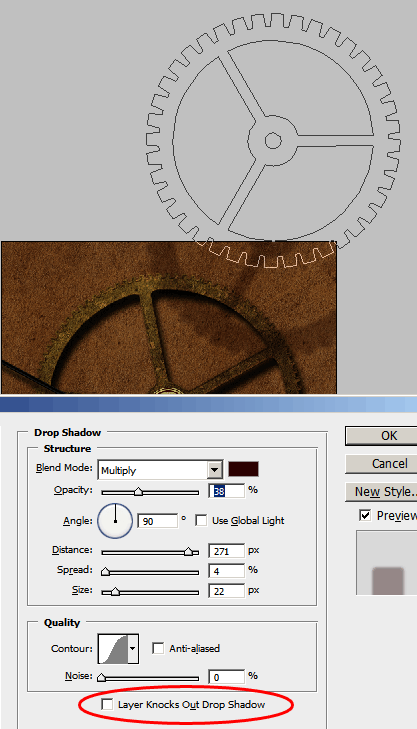 Add a Drop Shadow, but with an enormous Distance. I'm using a dark blood red-black, #2c0101, you might want to compare "smooth" versus "linear" Contour. Set the size for a fuzzier (and thus further away) shadow.
It's quite important to uncheck "Layer Knows Out Drop Shadow". This enables us to see the entire shadow, even where it passes behind the object. And since we have an invisible object (Fill of zero), we'd have unexplained gaps if we failed to check this option.
Step 22
Lighting is what's going to sell this image and sometimes, as we've just seen, the best lighting is negative-lighting, aka shadows. Create a new Adjustment Layer: Layers » New Adjustment Layer » Curves... Go ahead with this drastic one, pull the midtones down quite low. Click OK. Now press Control+I to Invert the Curve's Mask (effectively hiding the effect — you can also fill the layer mask with Black). Now, grab the Brush, make it an enormous soft one, and scribble shadows into the canvas edges.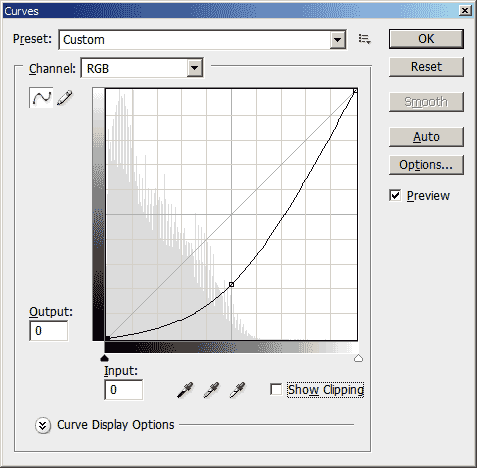 Here's what my mask looks like: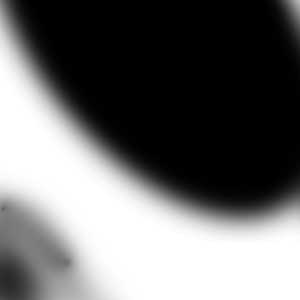 Step 23
I'm going to add a vignette effect, essentially repeating step 22 with a less dramatic curve and applying it more judiciously so an oval of light seems to hit the gear.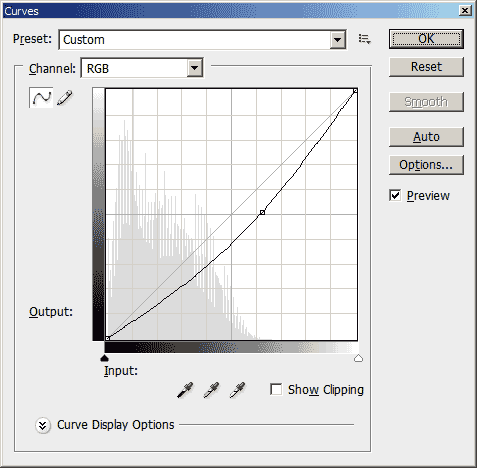 Here's the mask I'm applying: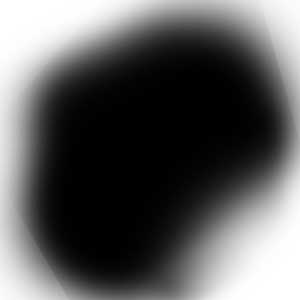 Conclusion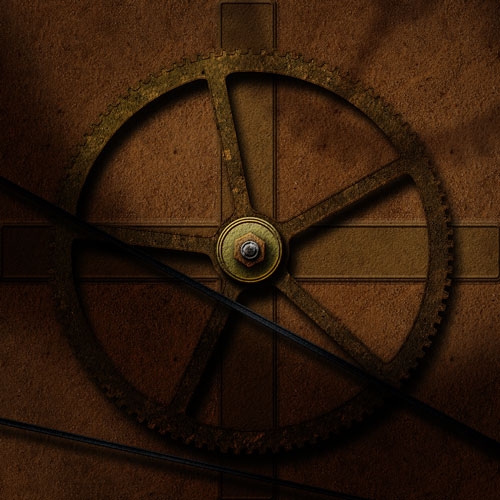 Creating hyper-photo-realistic images is a great and quite forgiving way to learn Photoshop's many effects. And if it's not quite believable enough, well, it wasn't suppose to be in the first place, right?