Tuesday, January 24th, 2012
Glue stick your way into that pseudo-musician's heart. Build this...
Ukulele Valentine Heart Box Papercraft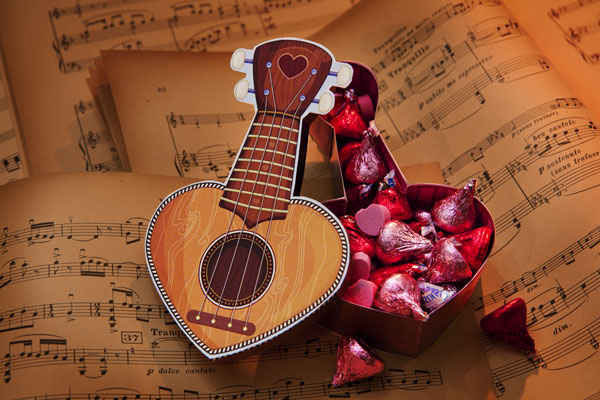 "Moderation" — it isn't in the ukulele player's vocabulary, so why are you hesitating? You actually believe there are limits to the uke obsession? Puh-shah!! No way! Enjoy a stress-free Valentine's Day: build your uke-crazed sweetie this heart-shaped ukulele box then fill it with See's candies, jelly beans, an engagement ring, or Jake Shimabukuro tickets — whatever you do rest assured that ya done good.
Download "Ukulele Valentine Heart Box" template (532kB PDF)
Finished box with lid measures about 6" x 4" x 1.25". Includes three sheets: box & lid plus truly garish interior pink-n-purple box "lining".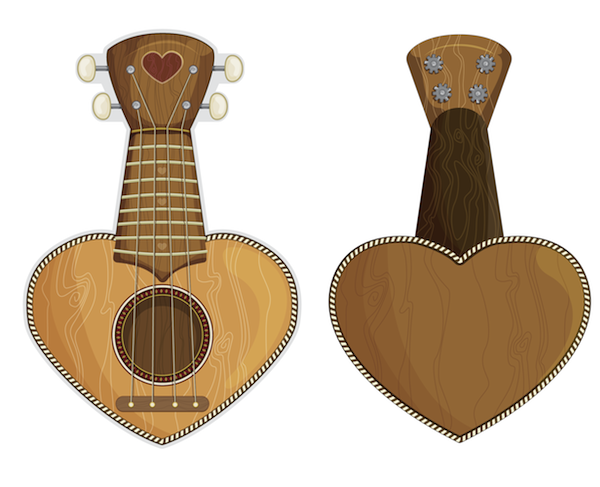 I printed mine on 80 pound smooth paper and can attest that the resulting carton is a surprisingly sturdy beast — those interior strips really stiffen the structure.
Be forewarned! 45 minutes did I toil assembling this silly box, though I'm admittedly all thumbs when doing paper craft — glue covered thumbs, wrong bits stuck together; that level of ineptitude (rings oddly familiar, same can be said of my uke playing :D). Heck, even basics — cutting along lines, folding straight edges — it's all a challenge. Doodling artwork (Adobe Illustrator) on my new-ish MacBook Air while enjoying a brew at local coffee spots? That I can do.
Some tips might be useful so here's what I found helpful:
Fold & glue the tuning pegs before doing your precise trimming.
On the lid (the uke's top) don't worry about gluing all the way up to the edge, a bit of a lip is fine.
Start attaching the sides with the headstock piece, beginning at the "V" where the head meets the fretboard.
Once the fretboard sides are attached (don't glue the very end bit as there might be some trimming required — I deliberately made the pieces longer than you should need) attach the body's sides starting at the sharp point at the bottom of the heart shape — folding the sides in half and aligning the "V" to the point.
Depending upon your paper stock you might need to "feather" the tabs a bit on the round corners of the head stock.
Attach the lining sides first. The top & bottom lining pieces are larger than you need so dry fit, trim, dry fit, trim — until they fit snugly before gluing in place.
Oh, and for the record, I take extra pride in the slightly bowed frets and the tuning gears.

Ukulele (Valentine) Heart Box Paper Craft Template by Buz Carter is licensed under a Creative Commons Attribution-NonCommercial-ShareAlike 3.0 Unported License.
Based on a work at pizzabytheslice.com.